Canada's National Research and Education Network (NREN)
The National Research and Education Network (NREN) is an essential collective of infrastructure, tools, and people that bolsters Canadian leadership in research, education and innovation. CANARIE and its twelve provincial and territorial partners form Canada's NREN. We connect Canada's researchers, educators and innovators to each other and to data, technology and colleagues around the world.
The partners in Canada's NREN are working collaboratively to strengthen the security of this critical infrastructure. An unprecedented pan-Canadian effort is underway to coordinate network threat monitoring. This initiative involves the creation of a team of NREN Security Analysts, together with the deployment of common monitoring equipment (a Security Information Event Management platform, or SIEM) on NREN partner infrastructures. The analysts will develop incident response and mitigation strategies based on their monitoring of data collected by the SIEM. This national initiative will advance the security posture of the NREN, and lays the foundation for future collaborative security projects.
NB PEI Educational Computer Network (ECN)
The provinces of New Brunswick and PEI each have a Provincial Research and Education Network. The two research and education networks work collaboratively through the New Brunswick – Prince Edward Island Educational Computer Network (ECN) which provides a sustainable, economical, and reliable high-speed network platform to educational and research organizations throughout the region. It connects them to research and innovation networks across Canada and around the world. The ECN is a model of collaboration and shared services across this geographically, economically, and linguistically diverse region.
How to Connect to Canada's National Research and Education Network
If you are a member of NB PEI ECN, you're already connected to the NREN. If you'd like to connect, contact David Totton, Network Operations, Senior Director, IT Operations, University of New Brunswick or Doug Burton, Manager of Infrastructure Services, University of Prince Edward Island.
NREN Map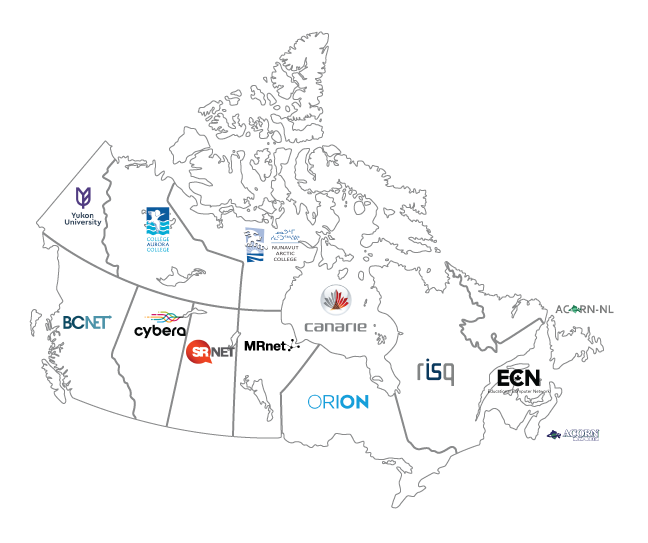 NREN Partners
Thirteen provincial, territorial and federal partners form Canada's NREN. More information on each partner, along with a link to his or her website, may be found here.
Want to know more about Canada's NREN?